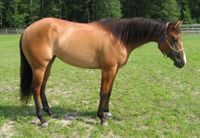 2008
Indy has it all. She is an NRHA earner and a very sweet gorgeous mare. She is sound and has great conformation. No holes pedigree and that great dun color to boot. Her sire is an NRHA 3 million dollar sire. Her dam is an NRHA Producer and Great Red Pine has produced earners in excess $280,000.00. Indys Star Dun It is performance producer. Producer of one foal.
Wimpys Star Pine is Herda N/N, HYPP N/N, PSSM N/N, MH N/N, IMM/N, N/Gbed. Color test is E/e, A/a, D/d


2013 Red Dun Filly by Sanlena Spark
2014 Palomino Filly by Crusin Whiz
2015 Bay Splash filly by Gun Dealer
2017 Dun Splash filly by SpookNDunit
2018 Sorrel colt by Crusin Whiz
2019 Sorrel colt by Crusin Whiz
2020 Dunskin Filly by Crusin Whiz 

By Wimpys Little Step. AQHA Leading NRHA sire (2010-OPEN. NRHA earnings $185,756.50.
Wimpys Little Step. Sired 1309 foals of which 377 were performers. Performance of these foals. Earned: 329 performance Wins, 1361.5. 23 Ha;ter Wins, 22 Novice Wins, 55 Novice Points, 42 Performance Register Of Merits, 1 Performance Superior Award, 10 Grand Championships, 6 Reserve Grand Championships, 7 All around Championships, 3 Reserve All around Championships, AQHA Incentive Fund $11,986.96, AQHA World Championship Show $17,751.92, NRHA $3,251,652.43, NRCHA $10,598.59, Palomino Horse Breeders Per Points 6.0
Wimpys Little Step: 3 million dollar sire in NRHA events

1st dam
Scarlet Star Pine  
Scarlet Star Pine is the dam of 6 foals of which 3 were performers.
+ Great Red Freckle, 2004 Sorrel Gelding by  San Jo Freckles
+ Hollywood San Jo, 2005 Bay Mare by  San Jo Freckles. NRHA $ 8,500.00
+ Topguns Star, 2007 Bay Mare by Topgun Whiz
+ Wimpys Star Pine, 2007 Dun Mare by  Wimpys Little Step. NRHA $259.00
+ Walla Great Pine, 2009 Dun Stallion by Walla Walla Whiz.  AQHA Point earner
+ Pepto Patch N Dun It, 2012 Red Roan Stallion by Peptos Stylish Fox.

Dam's sire, Great Red Pine. AQHA Leading ncha Sire (2002-OPEN); NCHA Super Stakes (1983-OPEN); NCHA Cutting Horse Futurity (1982-OPEN). NCHA $577,652.36. NRHA 3 Million Dollar Sire
2nd dam
Indy Star Dun It - NRHA $1400.00
Indy Star Dun It is the Dam of 16 foals of which 10 were performers.
+ Great Daisy Pine, 19995 Palomino Mare by  Great Red Pine. AQHA Point earner
+ Alexus Is A Ten, 1996 Sorrel Mare by A Dandy Enterprise. 
+ Scarlet Star Pine, 1997 Dun Mare by Great Red Pine.  See 1st Dam
+ Heza Banjo Star, 1998 Sorrel Gelding by  Heza Fozy Banjo.
+ Double R Triple, 1999 Buckskin Gelding by Double R Chips.  AQHA Point earner 
+ Magnum Done It, 2001 Sorrel Mare by Magnum Chic Dream. NRHA $14,000.00
+ Dun It Kid, 2002 Dun Gelding by Brennas Kid. 
+ Steady Dun It, 2003 Sorrel Gelding by Steady Tradition. NRHA $7.89
+ This Pistols Dunit, 2004 Black Mare by Custom Pistol.
+ Not Just A Pistol, 2005 Black Gelding by Custom Pistol. NRHA $3,000.00
+ Major Indy Star, 2006 Sorrel Gelding by Major Vaquero.  NRHA $1996.00,  AQHA Point earner
+ Dun Wranglin, 2007 Chestnut Mare by Starlights Wrangler. NRHA $ 13,000.00
+ Nicatee, 2008 Palomino Gelding by Mister Nicadual
+ Dun It Dually, 2009 Sorrel Gelding by Mister Nicadual.  NRHA $7400.00
+ Nicadual Dunit, 2010 Buckskin Stallion by Mister Nicadual. NRHA $24.00
+ Mr Nicadual Dun It, 2011 Palomino Mare by Mister Nicadual.

 
You are visitor number: 1382