Foal Summary
2011 Sorrel Filly
Sire:
Cool Wimp
2012 Sorrel Colt
Sire:
Cool Wimp
Cruzn Whiz Rowdy
2013 Palomino Filly
Sire:
Crusin Whiz
Cruzn Yankee
2014 Sorrel Colt
Sire:
Crusin Whiz
Whiz N Rowdy
2015 Palomino Colt
Sire:
Crusin Whiz
2016 Sorrel filly

Sire:

Crusin Whiz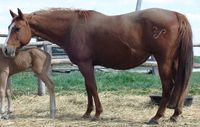 2004
Rowdy is a sweet mare with over 18 months training, she is quiet with great conformation and an awesome mover. She has full siblings that are NRHA earners. Her sire Rowdy Yankee is a NRHA million Dollar sire and her dam is an NRHA producer. Doc Tom Tucker is WCH Hall Of Fame.
Rowdys Little Tucker is N/N for HYPP, HERDA, GBED, PSSM, and MH. 
Also N/N for the splash gene
Rowdy Little Tucker is the dam to 5 foals
2011 - Sorrel filly by
Cool Wimp
2012 - Sorrel colt by
Cool Wimp
2013 - Palomino Filly by
Crusin Whiz
2014 - Sorrel colt by
Crusin Whiz
2015 - Palomino colt by
Crusin Whiz
Another stallion has joined the ranks of
Equi-Stat
Elite $1 Million Sires. The newest member of the club is 1994 stallion Rowdy Yankee, owned by the Rowdy Partners, Lucama, N.C. Rowdy Yankee's
Equi-Stat
sire record boasts 106 offspring performers who have earned a total of $1,001,841.
Keith Crawford Farms, Howell, Mich., bred Rowdy Yankee (Smart Chic Olena x Nita Chex x Ready Chex) and owned the stallion for the majority of his life. Andre DeBellefeuille and Francois Gauthier purchased Rowdy Yankee in 2007 and owned him until he changed ownership to the Rowdy Partners this year. He stands at Sunny Pines Breeding Station in Lucama, N.C.
Rowdy Yankee earned $97,381 during his own reining career, and $86,441 of that was with Keith Crawford. Crawford rode the stallion to the 1997 National Reining Horse Association Futurity Non-Pro Championship, and they were also champions at that year's Tradition and North Central RHA futurities. The next year, the pair won the National Reining Breeders Classic, Gordyville Breeder's Cup and Florida Reining Classic Non-Pro Championships. In 1999, they claimed both the Open and Non-Pro Championships at the Reining By The Bay. In 2006, Shawn Flarida took the reins of Rowdy Yankee and guided the horse to close to $11,000
Rowdy Yankee's leading money-earning foal is 2001 stallion Hollywood Yankee Kid (out of Sunshine Yellow Kid x Brennas Kid), who has $86,067 on his Equi-Stat record. Hollywood Yankee Kid was bred by Jack Donaldson, Findlay, Ohio, and is owned by Heike Nixdorf and Mario Karner of Austria. Trainer Brent Naylor showed Hollywood Yankee Kid to the 2005 NRBC Open Reserve Championship for Leslie Grinker, and Jordan Larson won multiple limited-age titles on the stallion for Dorminy Bros Plantation. At last year's Americana Reining in Germany, Grischa Ludwig showed Hollywood Yankee Kid to second place in the NRHA Open Reining.
Rounding out Rowdy Yankee's top five money-earning offspring are Big League Yankee ($74,806 Equi-Stat record), Strike Em Out ($58,419), Hes At Bat ($51,500), Blazing In Black ($51,163) and Yankee Bambino ($45,163).


Read more: http://quarterhorsenews.com/index.php/reining/reining-stats/10712-equi-stat-elite-1-million-sire-rowdy-yankee.html#ixzz2Hz87W7iJ
You are visitor number: 633