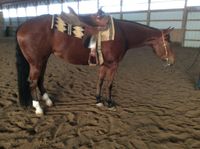 2012
Anna is super sweet mare with loads of talent. She is in reining training and will be shown in 2017 and will join the broodmare band in a few years.
Annas Got Guns is 5  Panel N/N.  Here color test is Ee, AA, SW2/n.  She is also APHA registered

Anna is great mare that has great conformation, great mind and very pretty.  Gun Dealer has NRHA earning of $54,000.00 and was NRHA Limited Non Pro Champion.  OE: $86,000.00.  Gun Dealer is by the great NRHA 6 million dollar stallion Gunner and out of Docs Peppy Oak who has produced earners in excess $69,000.00.  Solid Teri is a NRHA earner.  TAMU Solid Oak has NCHA earnings and OE: $ 65,000.00.  Doc's Oak is a Leading Materinal and Paternal sire.  First Taste of Texas has NRHA earnings and has produced NRHA earners.
You are visitor number: 574